Looks like Enemy Front may just be something to keep an eye out this October when it's released.
Set in a non-historical setting of WWII and leaving behind rank and perks (Can I get a HELL YEAH) this game sounds like it has a lot of potential.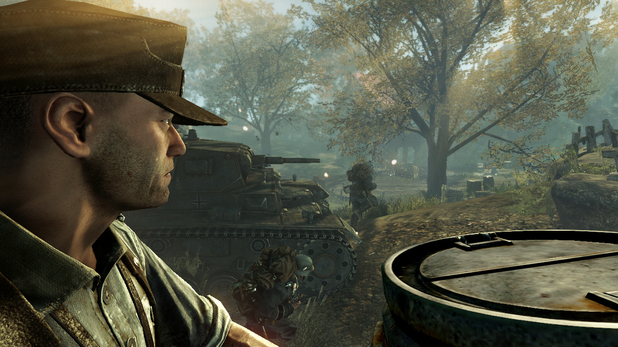 Digital Spy
interviews Stuart Black (from Codemasters) about the game
Is it the case that these games are a bit old now? Will you be introducing more modern elements?
"We hopefully want to modernise it and take like a modern blockbuster kind of approach to it. And get out of that [Saving] Private Ryan rut. That being a front line grunt, with some sergeant constantly barking orders at you, saying, 'Go here, take that machine gun, up that hill!' You almost feel like a bit player in your own game.

"It's like, 'I ain't the star', this other guy, the guy that I'm following, he's the f**king lead and I'm some secondary character. So we wanted to get you back to being the hero again in that way and to get out of that Normandy to Berlin run.

"Which you can understand why lots of games do it, because until then, most of the big battles, the Allies lost! Researching this and looking at all the historical battles it's like, 'OK, I can see why everybody starts at Dunkirk because until then there were no victories', and who wants to take part in a game where you're always on the losing side?

How are you approaching multiplayer?
"We want to go very, I guess, narrow and focused on multiplayer. My thinking is, first time out the gate, it's unrealistic to think we were going to do something better than Call of Duty or Battlefield and say hey, we're going to stomp all over these guys. That's just not going to happen on our first iteration.

"We wanted to take a focused approach to it, a team-based game. The closest equivalent would be Day of Defeat, that would be the shorthand way of describing it, I guess, Day of Defeat, an old Half-Life 2 mod.

So far it does sound interesting, my only issues is it sounds like they are shooting for 8vs8 and I'm not a fan of these small PC MP titles. No word on server sided features and what to expect via the PC. I'll try and reach out to see if we can get a contact to answer some questions
- Source and full article
here